Top tours to try in Abu Dhabi
Visiting a major city like Abu Dhabi can sometimes feel overwhelming, especially when you don't know where to begin. The best way to combat that is to book tours and take advantage of those who are well-versed with the city's best activities and attractions. There are plenty of experienced Abu Dhabi tour operators who can plan an incredible day or your entire holiday for you, or you could book fun sightseeing tours aboard a boat, bus or car!
Scroll down to see how you can explore Abu Dhabi's city, sea and desert, stress-free.
1. Sir Bani Yas Island Cruise Beach
Imagine disembarking from your cruise ship on a gorgeous island with an array of things to do! Sir Bani Yas Island Cruise Beach is a place for cruise ships to halt in Al Dhafrah. When on the island, you can sign up for watersports, such as kayaking, paddle boarding, or snorkelling and you can book tours from the onsite transportation centre to explore the island or even go horse riding!
See the city from a different angle and enjoy a refreshing ride across Abu Dhabi's waters on The Yellow Boats. Whether you choose a 60-minute ride around the Corniche, or jet off from the Emirates Palace Marina; make sure to keep your camera on the ready (safely secured, of course) to capture the most stunning photos.
Take a ride through Abu Dhabi's most prized assets, the Mangrove Forests, with the help of Captain Tony's, an established marine tourism provider. This eco-conscious boat tour is led by a knowledgeable guide who shares facts about the city's local wildlife and environment. The company can also organise romantic sunset cruises, vibrant dhow cruises, and fishing trips if you want to reel in fresh fish!
With flexible tickets and the ease of hopping on and off, see Abu Dhabi from the famous red open-top buses via the Big Bus Tour. The excursion drives you around popular sights like the Sheikh Zayed Grand Mosque, Yas Island and more. To learn about the different landmarks, you can tune into the pre-recorded audio given with headphones as you board the bus, which is available in up to 8 languages so no one misses out!
5. Visit Abu Dhabi Shuttle Bus
A free-to-ride bus that can take you to top hotels and attractions? Say yes to hopping on the vibrant Visit Abu Dhabi Shuttle Bus by simply claiming free access to it after booking your hotel stay or purchasing admission tickets for any Abu Dhabi attractions using the Visit Abu Dhabi online booking platform.
Explore the Green Mubazzarah aboard a vintage-looking mini-train by Leisure Train Tourism which includes a brief history of the place along with multiple stops, including how the area flourished at the hands of founding father, Sheikh Zayed. You could also opt to ride the eco-friendly buggies that take you around the lush greenery of Al Ain Oasis, which is part of the UNESCO Cultural Sites of Al Ain.
Discover Abu Dhabi's massive desert with the help of Desert Rose Tourism. From quad bike adventures across the dunes to staying overnight at a campsite, this tour operator leaves no stone unturned to make your experience truly authentic and extremely fun. The desert safari packages are inclusive of dinner, henna painting, dune bashing, and live entertainment such as belly dancing.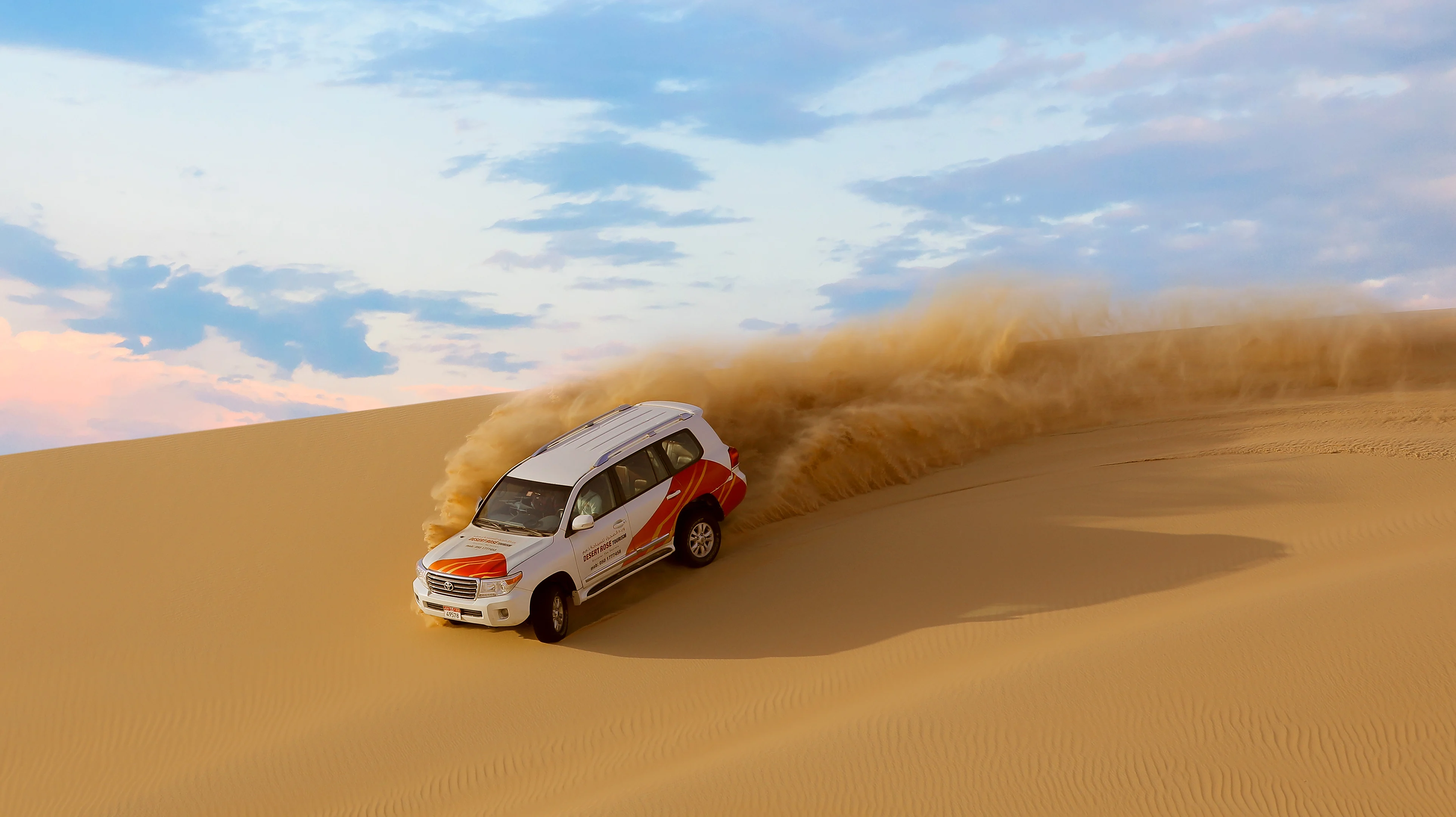 As one of the leading tour operators with offices around the world, Rayna Tours can help you book an exhilarating desert safari with a large group. How about opting for a sunrise session instead though? You can catch the sun emerging over the Al Khatim Desert, followed by an action-packed dune bashing and ending with a campsite visit complete with Arabic coffee and dates.
If you would rather see the city on your time and terms, how about downloading the VoiceMap app? Enjoy a self-guided audio tour that will tell you where to go and narrate the stories and facts about the landmark you are at. Pretty cool right?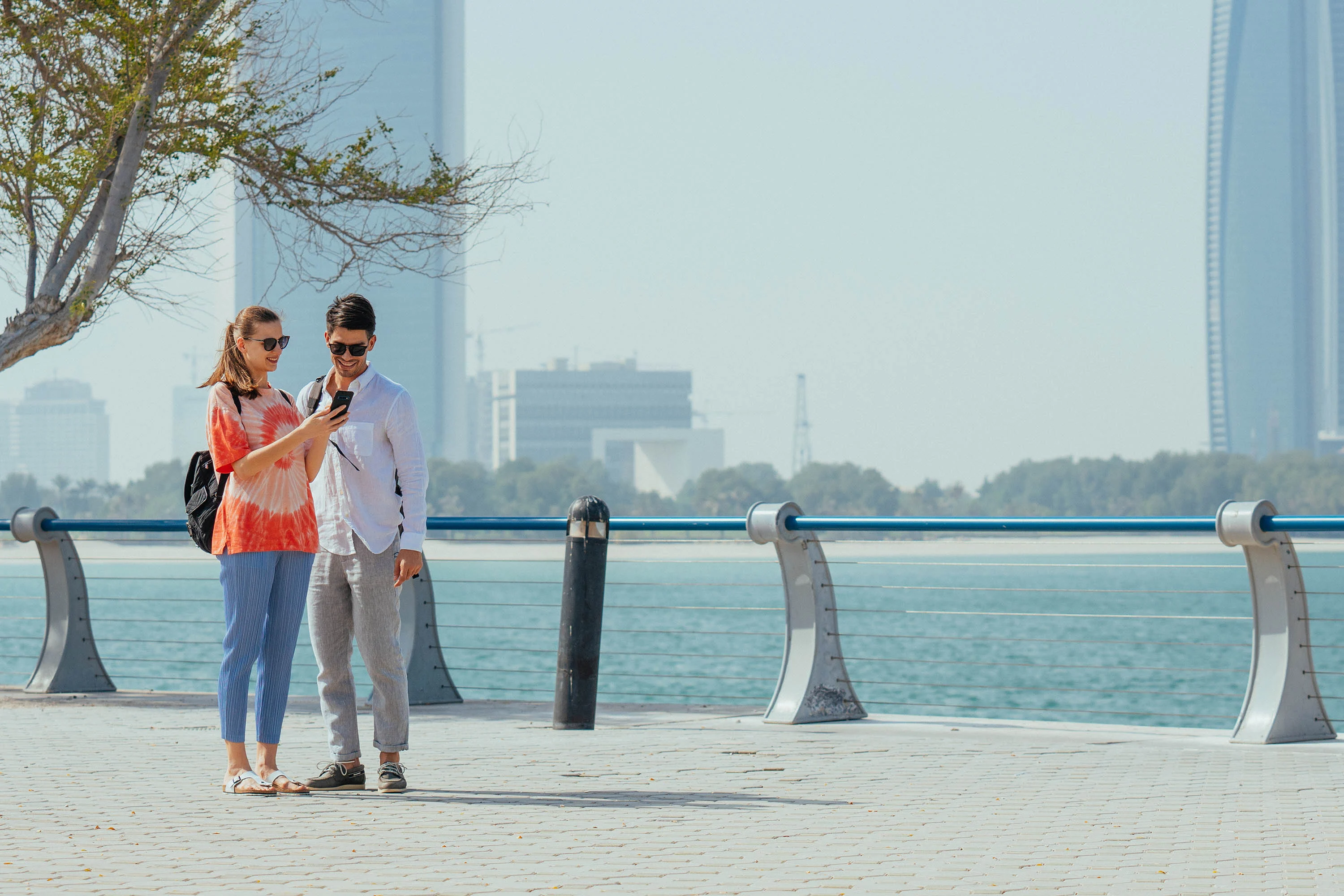 While there is only so much you can see when landing in to the city, another way to capture Abu Dhabi's beauty is mid-air with Seawings. Other than taking off and landing in water, you'll be airborne for the rest of journey, appreciating the stunning panoramic views of Ferrari World Abu Dhabi, Emirates Palace, the mangrove forests and plenty more.
You can even do a private tour where the entire plane is to yourself, which is ideal if you are looking to pop the big question!