Spanning 46,000 square metres and located directly opposite Abu Dhabi's world-famous Sheikh Zayed Grand Mosque, Wahat Al Karama is a timeless tribute that honours the Emirati martyrs who sacrificed their lives in service of their country. Wahat Al Karama is home to a permanent memorial commemorating the United Arab Emirates' heroes, including soldiers, police, diplomats and civilians, since 1971.
Operating hours
Visitor center: 9:00 AM to 7:00 PM
Tours booking: 10:00 AM to 6:00 PM
Memorial plaza area: 24 hours
Following an intensive construction programme, Wahat Al Karama was officially inaugurated on Commemoration Day in 2016. The Memorial, designed by British artist Idris Khan, is the centerpiece. An imposing public art structure made up of 31 massive leaning tablets clad in aluminium, the symbolism behind the Memorial is clear: each tablet leans against the other, portraying the unity, solidarity and mutual support that bind the leadership of the UAE with its citizens, residents and the servicemen and women who protect them.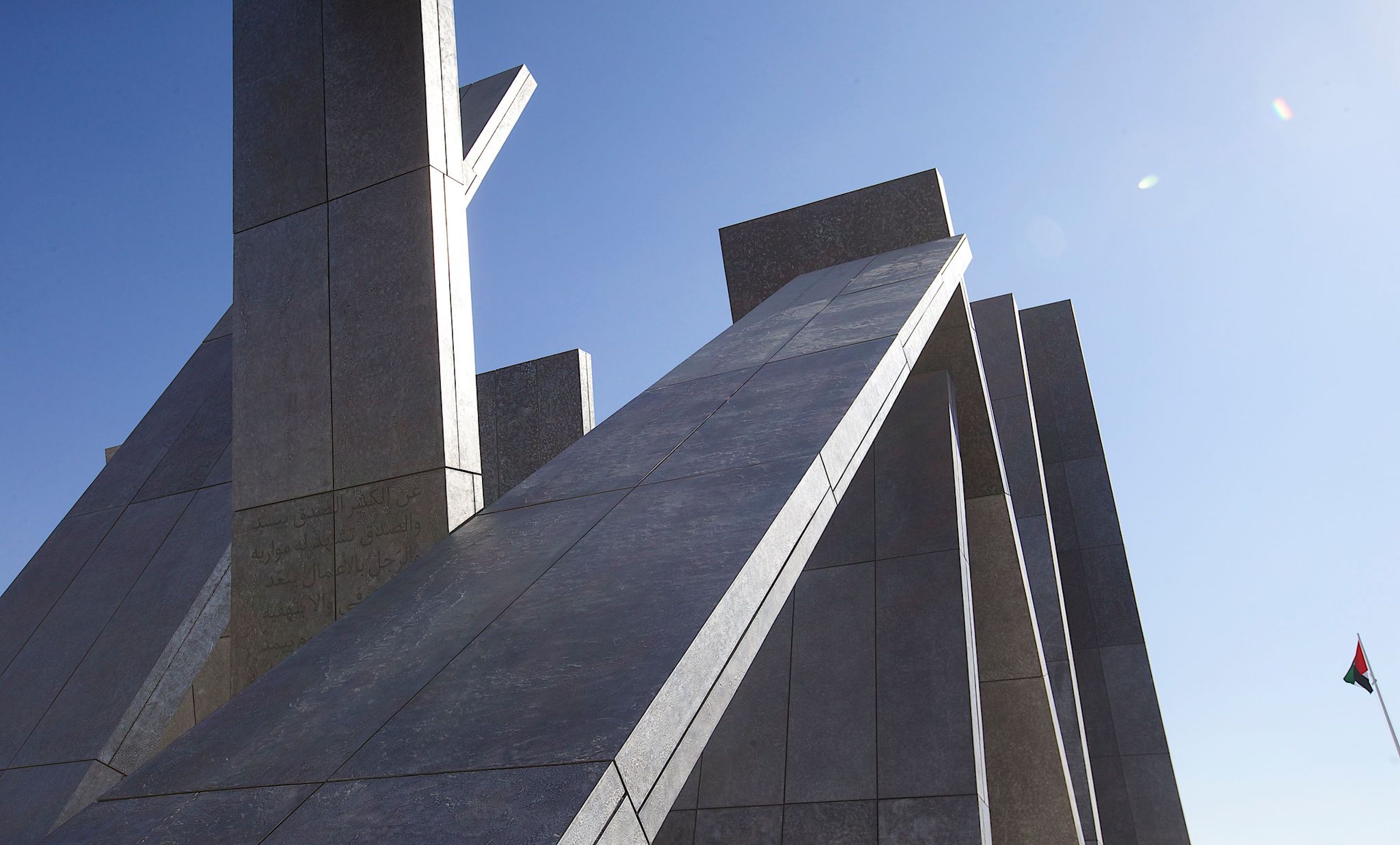 If you look closely, you'll notice poems and quotations engraved into the tablets' surfaces in simple script, with the long spine at the base of the Memorial bearing the Armed Forces' pledge of allegiance. Visitors can witness a daily Honour Guard march at the Memorial before sunset.
The Memorial Plaza is an open space surrounded by amphitheatre-style seating paved using travertine stone. The area can seat up to 1,200 people, with the plaza itself containing a spectacular shallow pool that offers visitors a breathtaking reflection of both the Memorial and the Sheikh Zayed Grand Mosque.
Beyond the Memorial Plaza and the Memorial is the Pavilion of Honour. The Pavilion offers a quiet and contemplative space in which visitors can reflect. Its circular internal walls bear the names of the UAE's heroes, each engraved on individual panels cast from metal reclaimed from the UAE's Armed Forces' vehicles. The names surround a central sculpture that consists of seven glass panels, each representing one of the UAE's seven emirates. The glass panels feature the UAE's Pledge of Allegiance, printed multiple times on both sides.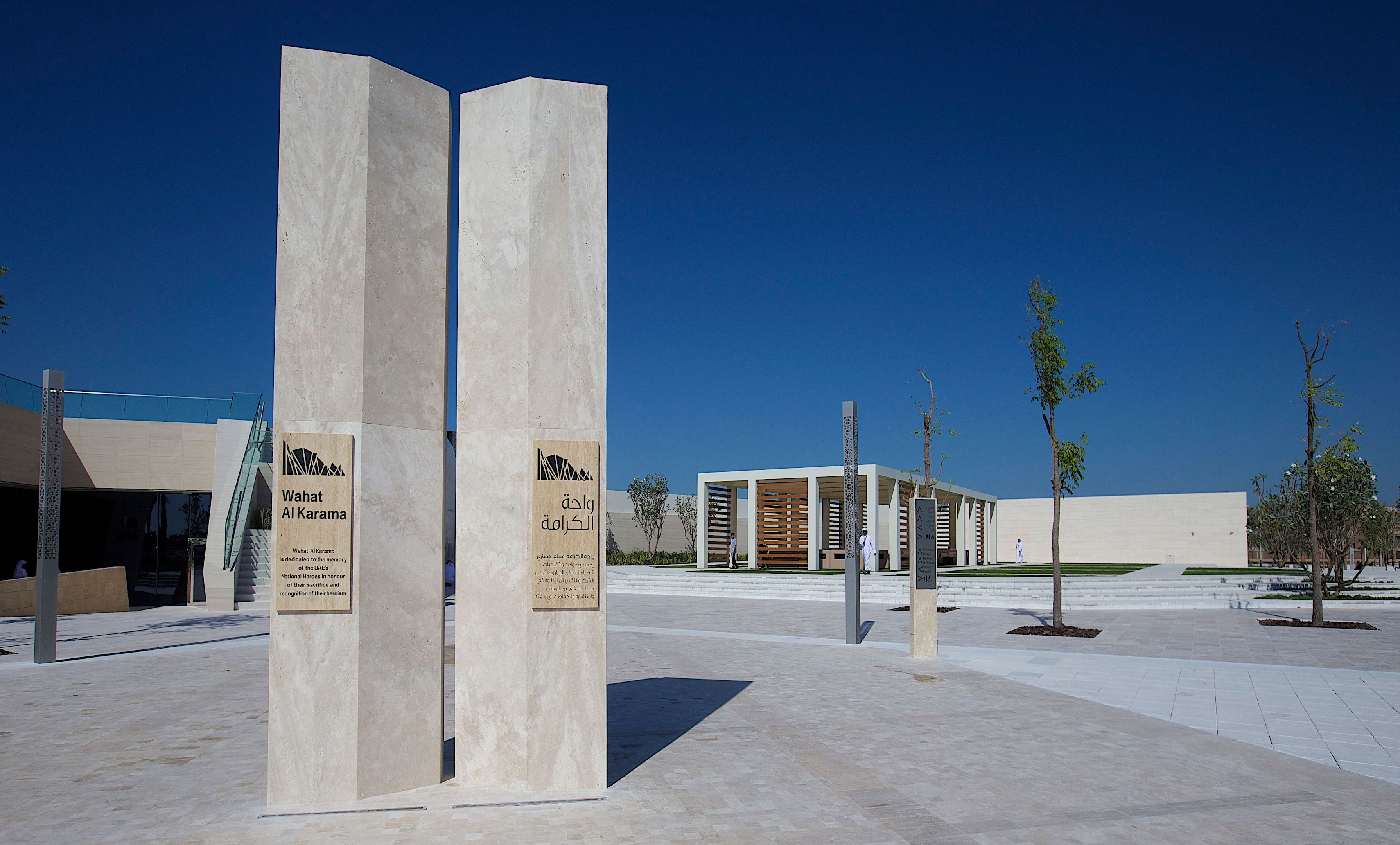 The visitor centre offers an interactive experience and gives guests an opportunity to learn more about the inspirational foundations and noble values that the UAE's heroic martyrs embodied. It comprises four different galleries, each home to a unique activity, and an electronic guestbook that records all official visits from international dignitaries. The souvenir shop offers visitors a way to remember this touching experience.
Wahat Al Karama is open to the public daily from 9am to 10pm and is free of charge. Guided tours are available in English and Arabic, with the last tour being at 6pm daily. Regular shuttle buses to and from the Sheikh Zayed Grand Mosque, as well as a connection via a pedestrian bridge, offer visitors easy access to this ceremonious site.