Sheikh Zayed Grand Mosque
Sheikh Rashid Bin Saeed Street, Abu Dhabi
When you enter Abu Dhabi's Sheikh Zayed Grand Mosque, you will understand why it is such a special place. Here, people from all walks of life come together to take in the architecture's beauty and gain a deeper understanding of religion and culture in the United Arab Emirates. The mosque is one of the world's largest and was the vision of Sheikh Zayed bin Sultan Al Nahyan - the Founding Father of the UAE. He envisaged the creation of a welcoming and cultural haven that inspires people from all backgrounds.
Even the construction was a cultural collaboration. The grand structure was designed and built by skilled teams from all over the world, including 1,300 Iranian artisans who hand-knotted the main prayer hall's carpet - the world's largest.
On your journey through the marbled halls, you'll see one-of-a-kind treasures, including gold-plated Swarovski chandeliers, the courtyard's vast marble mosaic artwork and reflective pools that mirror some of the many amethyst-and-jasper-embedded columns. When you're outside, look up to see the mosque's four stunning minarets that proudly stand at 106 metres.
The edifice boasts 1,096 amethyst-and-jasper-embedded columns, 82 white marble domes, reflective pools, gold-plated Swarovski chandeliers, an iconic prayer hall, and a courtyard featuring one of the largest marble mosaic artworks in the world. You won't have to look far to find the perfect shot.

The Sheikh Zayed Grand Mosque holds a Guinness World Record for the largest hand-woven carpet and also boasts one of the largest chandeliers in a mosque. Don't miss the calligraphy encircling the hollows of its domes, etched with verses from the Quran and painted with gold leaf in An-Naskh lettering.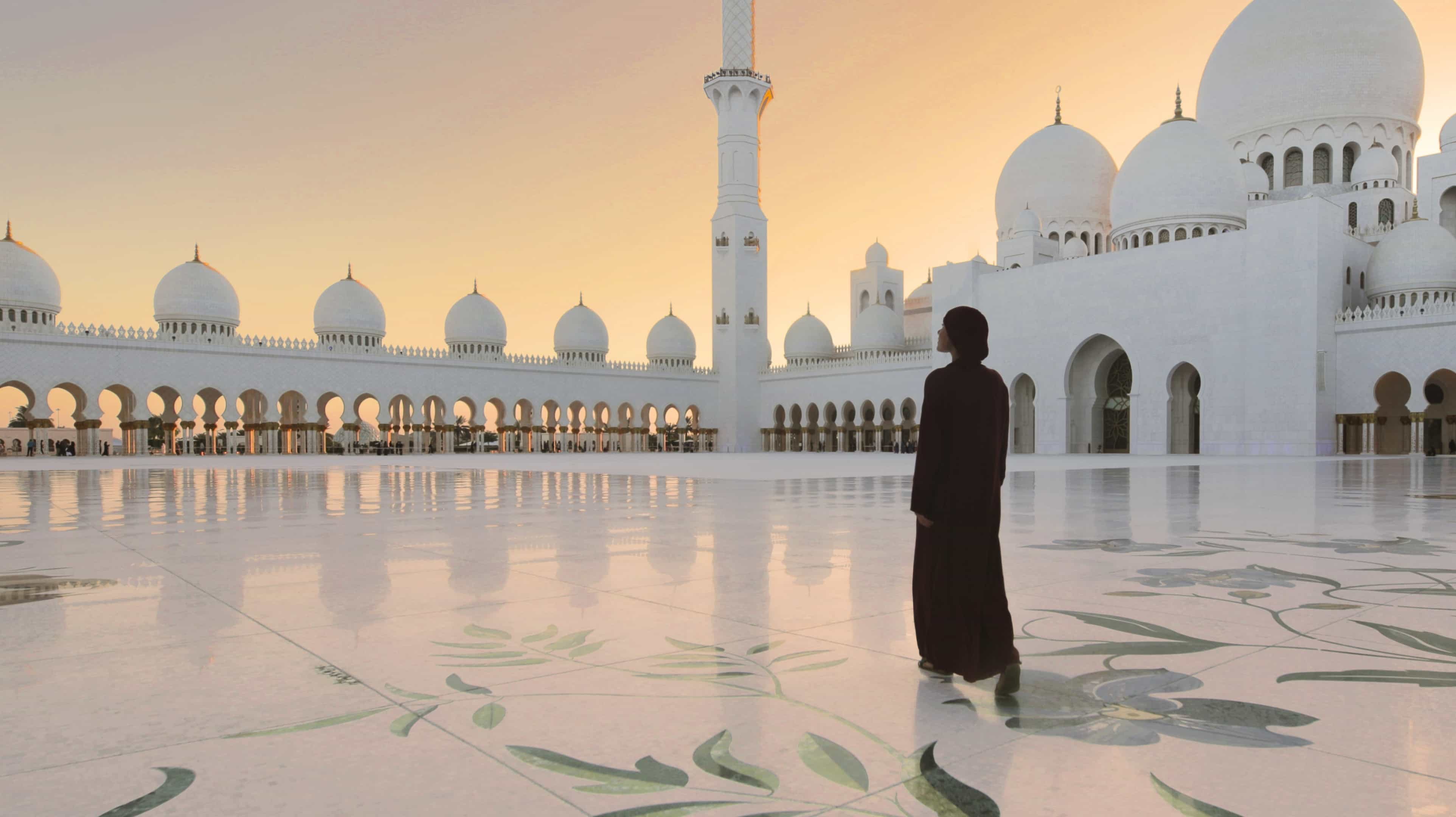 Completed in just over a decade, the mosque was built to embody Islam's foremost message of peace and tolerance towards people of all beliefs. The mosque's welcoming open-door policy encourages visitors from around the world, from families to groups, solo travellers to congregations, to not only witness its beauty but also gain a deeper understanding of the Emirate's culture of open dialogue.