Sheikh Zayed Grand Mosque
Sheikh Rashid Bin Saeed Street, Abu Dhabi
Abu Dhabi's Sheikh Zayed Grand Mosque is one of the world's largest mosques and an architectural masterpiece that beautifully combines Islamic architecture and design.
Sheikh Zayed bin Sultan Al Nahyan, the Founding Father of the UAE, had the mosque built in the capital city Abu Dhabi to create a cultural haven that welcomes and inspires people from all backgrounds.
Standing over 100 metres tall at its highest point, Sheikh Zayed Grand Mosque is a must-see for any traveller visiting the city looking for things to do.
The edifice boasts 1,096 amethyst-and-jasper-embedded columns, 82 white marble domes, reflective pools, gold-plated Swarovski chandeliers, an iconic prayer hall, and a courtyard featuring one of the largest marble mosaic artworks in the world. You won't have to look far to find the perfect shot.

The Sheikh Zayed Grand Mosque holds a Guinness World Record for the largest hand-woven carpet and also boasts one of the largest chandeliers in a mosque. Don't miss the calligraphy encircling the hollows of its domes, etched with verses from the Quran and painted with gold leaf in An-Naskh lettering.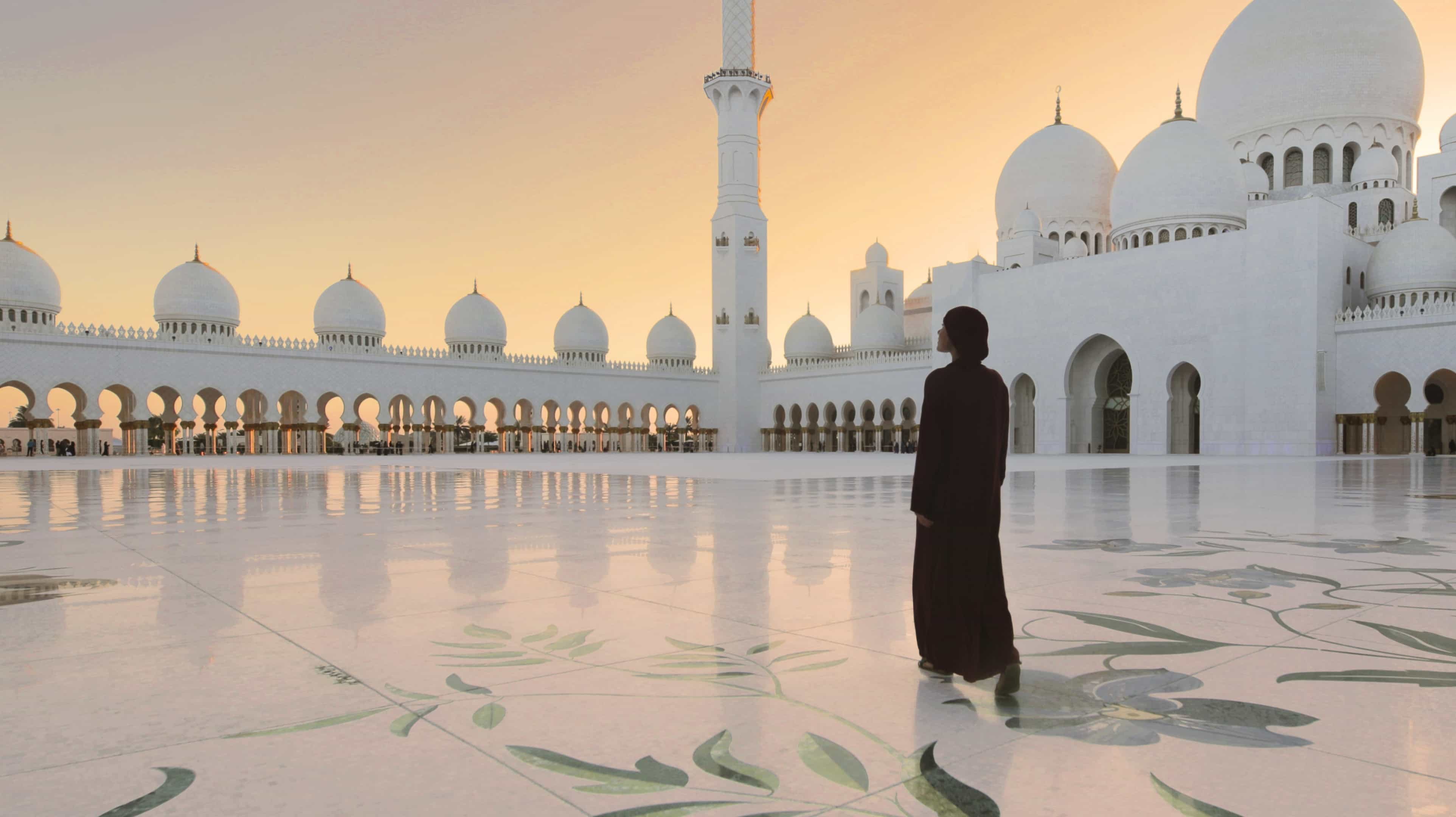 Completed in just over a decade, the mosque was built to embody Islam's foremost message of peace and tolerance towards people of all beliefs. The mosque's welcoming open-door policy encourages visitors from around the world, from families to groups, solo travellers to congregations, to not only witness its beauty but also gain a deeper understanding of the Emirate's culture of open dialogue.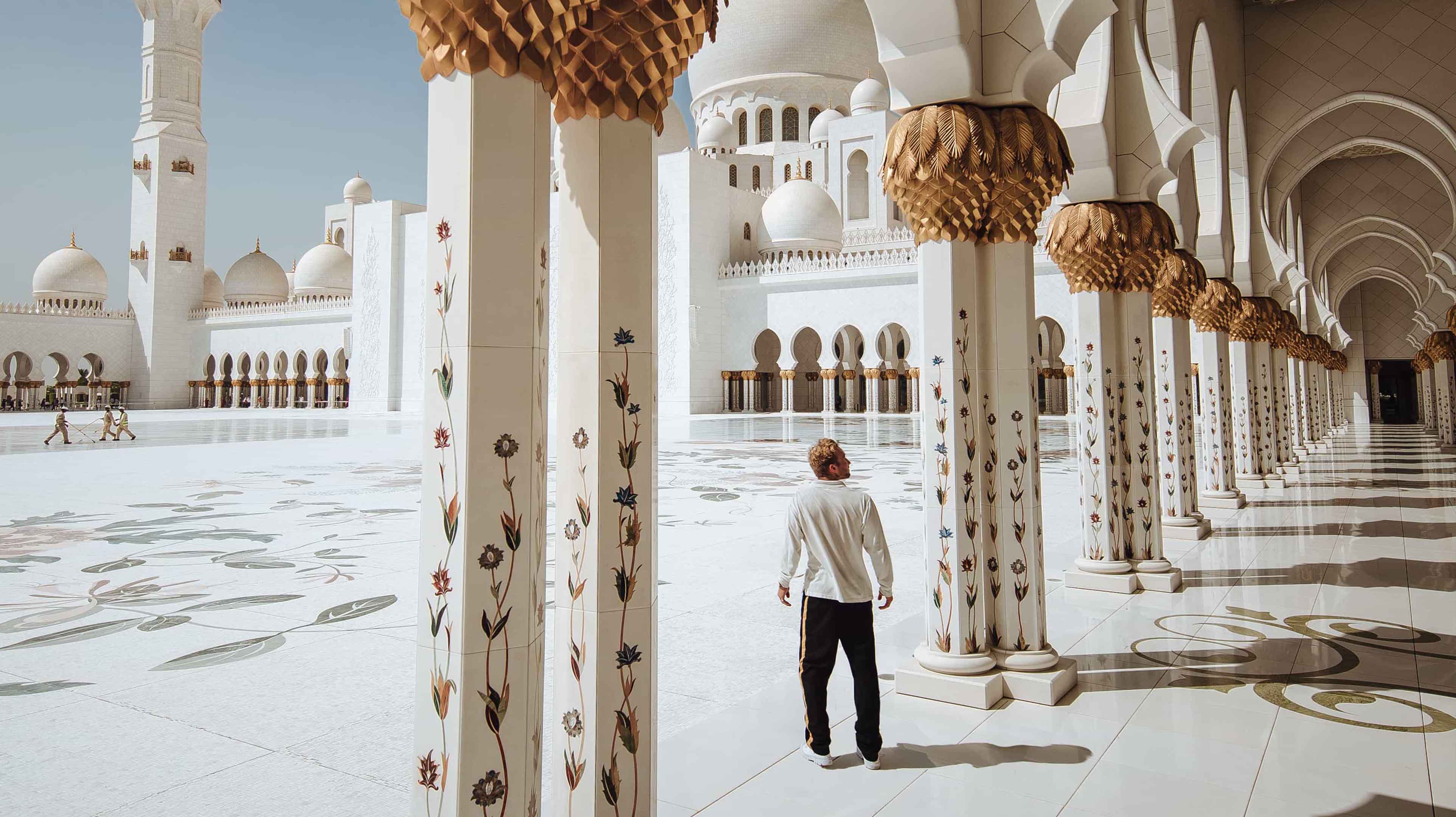 Explore Sheikh Zayed Grand Mosque
Sheikh Zayed Grand Mosque is one of Abu Dhabi's most popular attractions and welcomes up to 55,000 worshippers and visitors each day.
When is the best time to go?
The mosque is an amazing place to visit no matter what time you arrive; however, dusk is particularly special. The fading sunlight bounces off the white facade to create a beautiful glow, and after the sunset, you can witness the majesty of the building as it becomes illuminated by lights.
Are there guided tours?
The Sheikh Zayed Grand Mosque's free guided tours, in Arabic and English, are the best way to get the most from your visit.
What is the dress code?
Visitors to Sheikh Zayed Grand Mosque must follow a specific dress code as a sign of respect. Shoulders and knees must be covered and shoes must be removed at the entry gate. Women are also asked to wear abayas which are provided free of charge.
Is there an entry fee?
There is no fee to enter Sheikh Zayed Grand Mosque. Visitors are kindly asked to book their visit via the grand mosques' website.