Desert and outdoor activities
Create your own epic adventure in the vast landscape of Abu Dhabi's desert. This extraordinary part of the world is known as the 'Empty Quarter' and covers 70% of Abu Dhabi's land, making it the world's largest uninterrupted sand mass.
With so much space comes so much to see and do, and this part of Abu Dhabi is truly an adrenaline junkie's dream. With some of the world's largest sand dunes, dune bashing, sandboarding and quad biking in Abu Dhabi, which are especially thrilling. You can even take to the dunes on two wheels and fat-bike through the sand! Venture out with expert tour guides from respected tour operators who will ensure you will have the most fun while being safe. Get a taste of the Bedouin way of life and join one of many desert safaris where you'll be able to try soulful Arabic food, enjoy traditional Arabian entertainment and even experience riding a camel!
However, if you're looking to relax, the desert is the perfect place to retreat to. You'll find luxurious havens designed for dreamy getaways with the option to get your heart pumping if you need to. You can also escape the hustle entirely and switch off on a camping trip. Parks dotted around the desert offer camping and glamping tents with home comforts to make your stay unforgettable.
There are so many things to do in the Abu Dhabi desert. It's a bucket-list destination, perfect for the traveller who wants an authentic and immersive adventure experience. Get inspiration and find the best activities to do in the desert below!
The desert of Abu Dhabi can be a daunting place to explore on your own, that's why it's highly recommended to hit the dunes and experience desert life with one of many tour guides and operators in the emirate.
Most desert safaris include thrill-a-minute dune bashing, sandboarding, quad biking, falcon experiences, camel trekking, visits to camel farms and traditional meals under the stars. Don't worry about travelling to the desert, tour operators in Abu Dhabi are kind enough to pick you up from wherever you're staying and take you back home.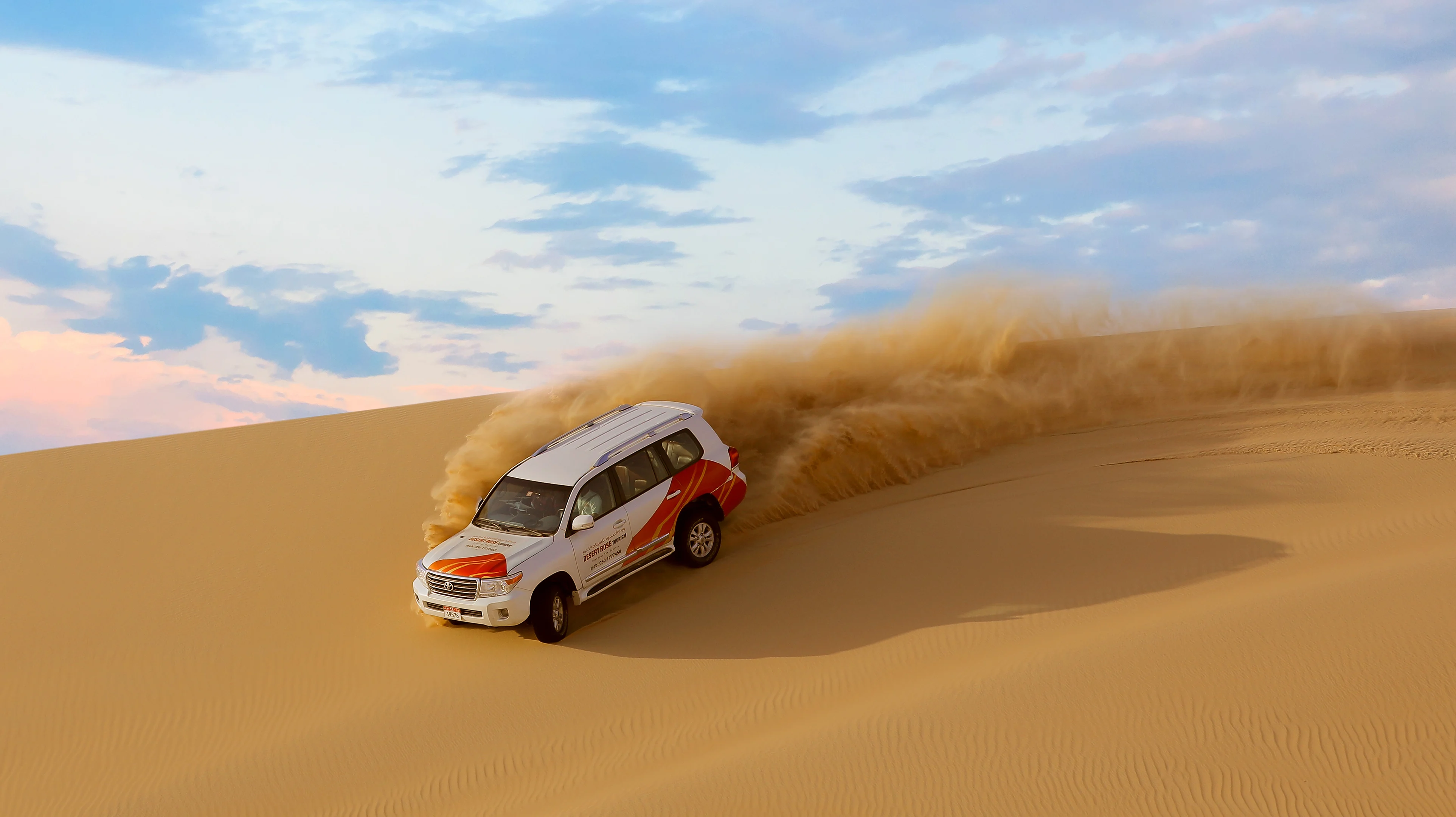 There's only one way to take in the diverse landscape of Jebel Hafit and that's at Jebel Hafit Desert Park. From the sprawling sand dunes to the peaks of the mountains, this area is packed with adrenaline-fueled activities such as horse riding, buggy riding, biking, hiking and so much more!
Make the park your home and camp overnight for super affordable prices or upgrade your stay and camp in style.
Escape the noise and retreat to the serenity of the desert. Enjoy the majesty of this impressive landscape from luxurious retreats a short drive from Abu Dhabi city.

Find your stay
Experience one of the region's largest wildlife reserves and be amongst animals including Arabian oryx, gazelles, giraffes, hyenas, cheetahs and so many more.

Visit the Arabian Wildlife Park
Destinations
Explore more of the desert
Frequently asked questions about the desert and outdoor activities in Abu Dhabi.
What is the desert in Abu Dhabi called?
Abu Dhabi's vast desert is known as The Empty Quarter, also known as the Rub' al Khali. It is the world's largest uninterrupted sand mass that spans parts of the UAE, Oman, Saudi Arabia and Yemen.
Where is the Abu Dhabi desert?
The desert area of Abu Dhabi is located to the south and east of the city. You can follow the highways E11, E65 and E22 to go beyond city limits and reach the desert. Using a
tour operator
to venture out into the desert is recommended. These operators also offer wider activities and refreshments as part of their tour packages.
Is Abu Dhabi a desert area?
70% of the emirate of Abu Dhabi is made up of desert.
Where is the most accessible desert in Abu Dhabi?
The most accessible part of Rub' Al Khali is a 2-hour drive from central Abu Dhabi. The Al Khatim desert is located between Abu Dhabi and Al Ain.