For more than 100 years, this incredible historic fort in the lush garden city of Al Ain, about an hour and a half away from Abu Dhabi, has played a major role in the history of the United Arab Emirates. Today, it offers visitors an opportunity to understand the country's story. Situated at the western approach to Al Ain city, Qasr Al Muwaiji's picturesque structure is a fine example of early 20th-century mud-brick architecture and a great place to take stunning photographs. The building is a simple but striking form: a square enclosure with projecting corner towers and a grand entrance gate.
Qasr Al Muwaiji was home to generations of the ruling Al Nahyanfamilyand saw the birth of Sheikh Khalifa, Founder of the UAE, in 1948. Built in the time of Sheikh Zayed bin Khalifa the First (r. 1855-1909) by his son, Sheikh Khalifa bin Zayed bin Khalifa, it later became the home and administrative base for the late Sheikh Zayed bin Sultan Al Nahyan when he became the Ruler's Representative in the Al Ain Region in 1946. His eldest son, His Highness Sheikh Khalifa bin Zayed Al Nahyan, was born at Qasr Al Muwaiji two years later, and spent much of his youth there, learning from his father.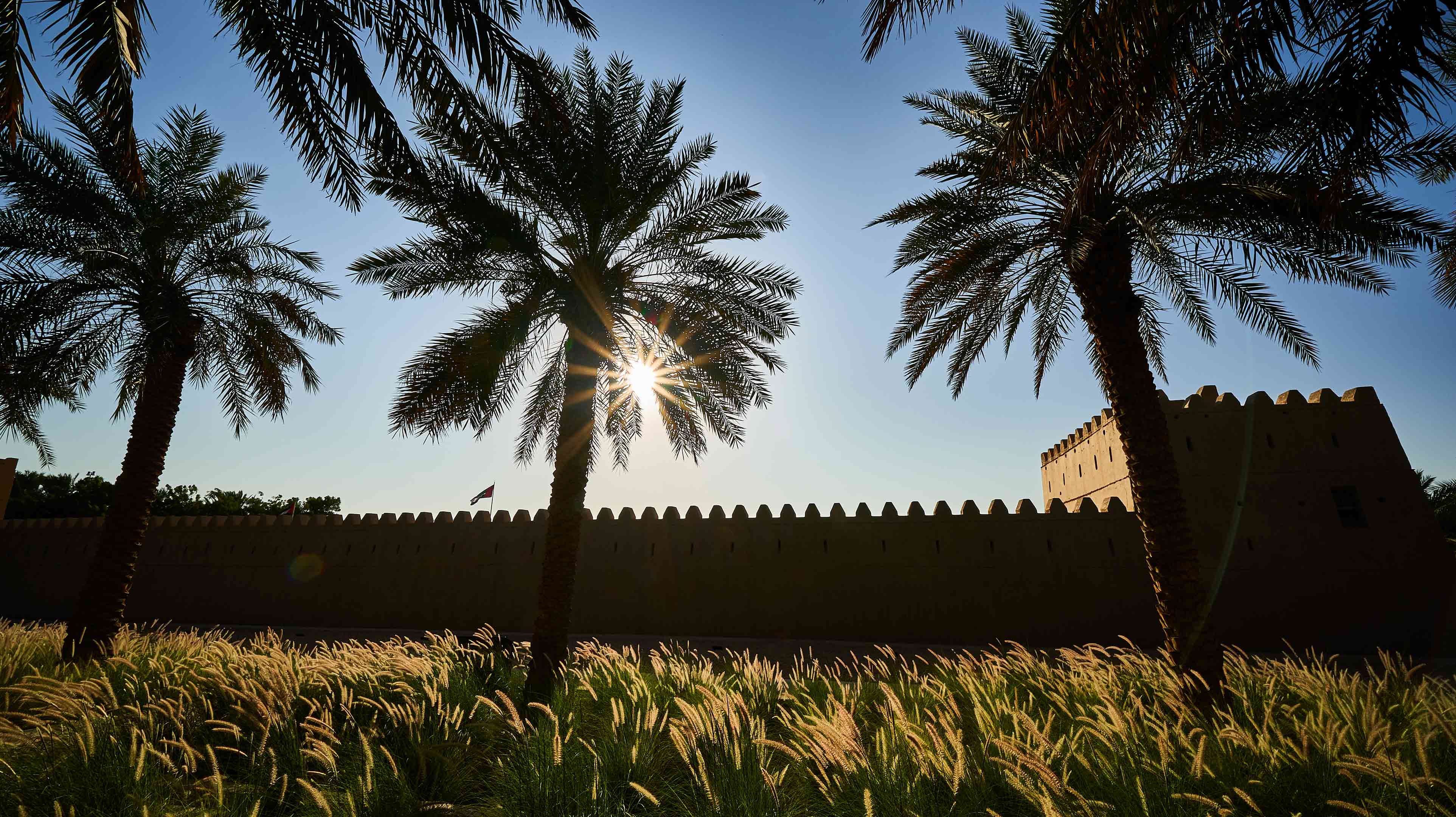 This UNESCO World Heritage Site functioned not only as a home and oasis in the desert but also as diwan (a council or seat of governance) and a place for the community to gather.
Sheikh Zayed bin Sultan Al Nahyan made many additions to the fort, reflecting its growing importance as the place of government in the region and an important location for discussions, reception of visitors and decision making. He added new diwan buildings and kitchens and expanded guest accommodations to address the increasing number of visitors. The fort's mosque was also made larger, with Qasr Al Muwaiji's significance as a focus for the community increasing as people came there to gather, pray and celebrate. When Sheikh Zayed bin Sultan Al Nahyan became Ruler of Abu Dhabi in 1966, both he and his son, His Highness Sheikh Khalifa bin Zayed Al Nahyan, moved to Abu Dhabi. Beginning in the 1970s, the compound underwent several phases of restoration, culminating in a major regeneration project that cemented Qasr Al Muwaiji as an important public space in Al Ain. This architectural gem now offers visitors a variety of historical and traditional experiences associated with the venue, including oral narrations of significant moments from Sheikh Khalifa's life, from childhood stories to his vast national achievements as leader of the country.
Today, a modern exhibition hall, housed in a beautiful glass-walled space within the courtyard of Qasr Al Muwaiji, tells the story of the fort and its inhabitants, with a focus on His Highness Sheikh Khalifa bin Zayed Al Nahyan, President of the United Arab Emirates. The exhibition sets out the chronology of the members of Abu Dhabi's ruling family, with a connection to Qasr Al Muwaiji. Above all, it highlights the accomplishments of His Highness Sheikh Khalifa bin Zayed Al Nahyan, tracing the history of Qasr Al Muwaiji from early archaeological discoveries through to modern-day features, and communicating its role in hosting visiting travellers over the ages.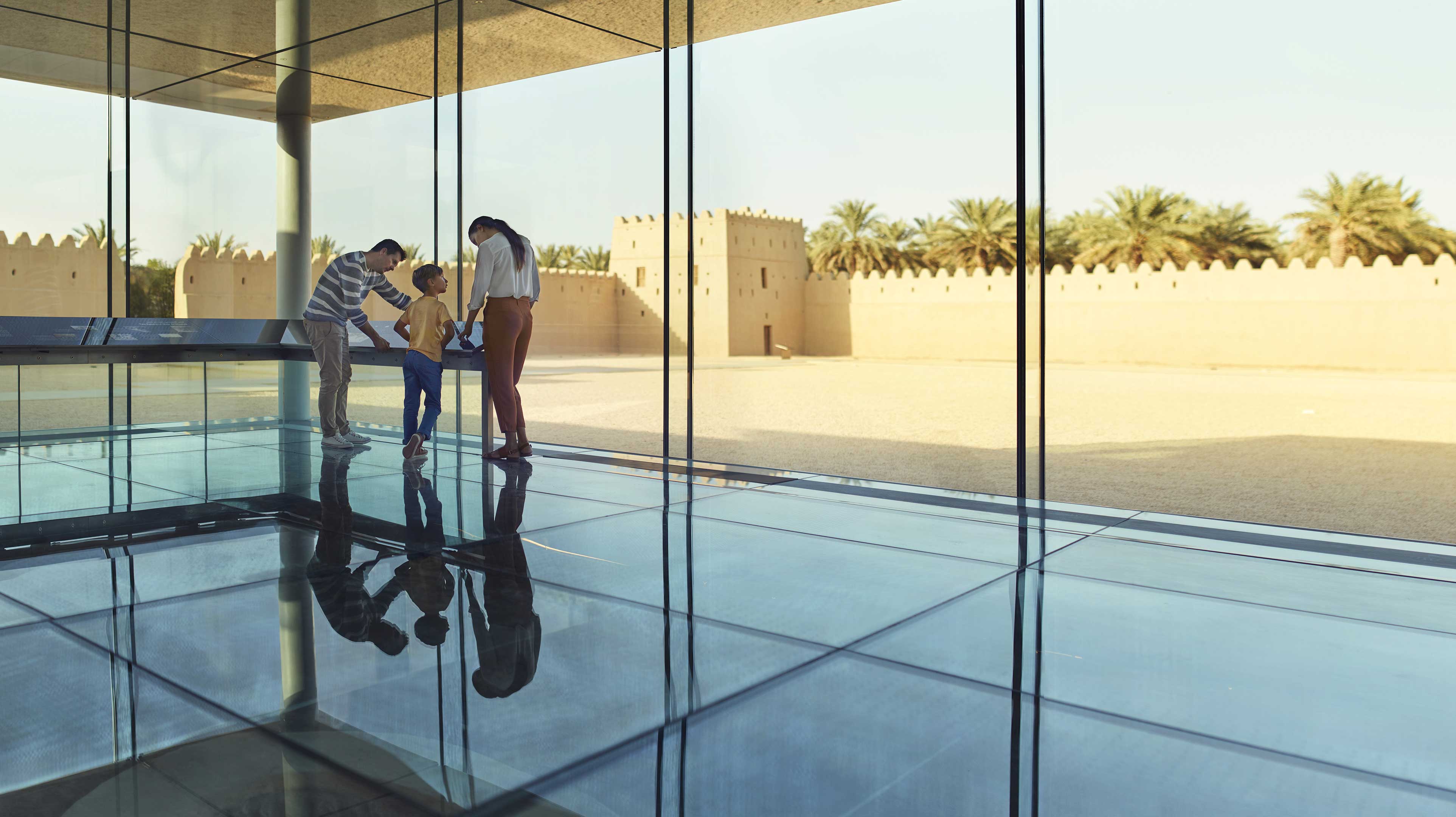 The museum also features interactive activities and performances that celebrate the overall spirit of this significant cultural site.
Displays here also explain the importance of water to Al Ain and its oases, including the nearby Al Muwaiji Oasis, the smallest oasis in Al Ain. Containing approximately 21,000 palm trees, as well as a traditional falaj (ancient irrigation system) that uses ground-level and underground canals to bring water from the nearby mountains, this oasis is a wonderful place to explore with children.