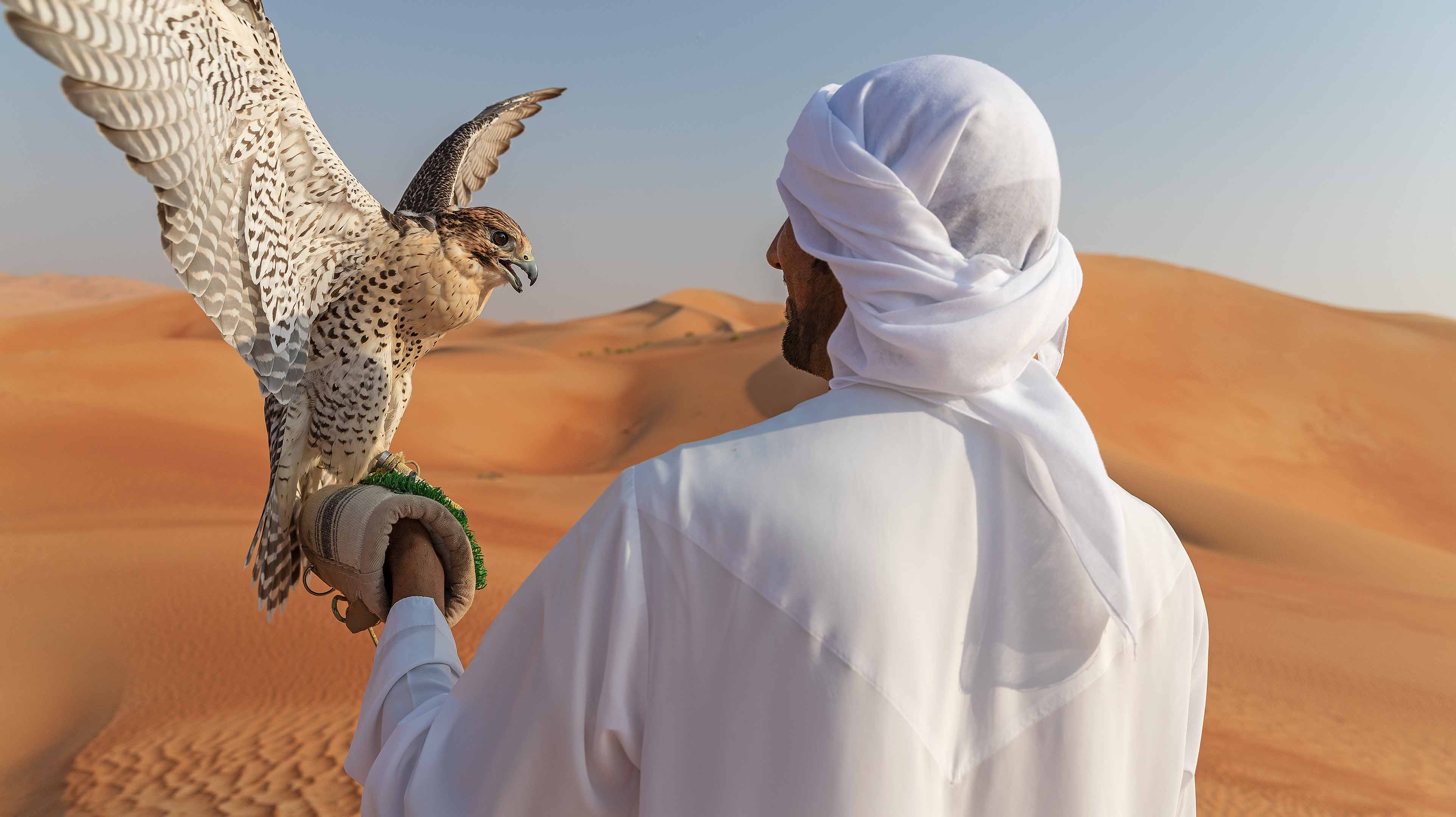 See All
The award-winning Qasr Al Sarab Desert Resort by Anantara, which lies amidst the towering dunes of the Liwa Desert at the entrance to the famed Empty Quarter (Rub al Khali), has a variety of memorable activities. These include desert walks, tours to the nearby Liwa Oasis, dawn yoga amid the dunes, camel trekking, desert drives, archery, fat biking on bicycles which have 4.8-inch wide tyres that can be deflated to tackle the enormous dunes which surround the resort, horse riding and a falcon and Saluki (desert hunting dog) show.
Twice-daily falcon and Arabian Saluki (desert hunting dog) shows allow you to learn more about traditional Saluki hunting and the ancient sport of falconry, both of which have been practised for thousands of years in the UAE. This cultural experience sees four falcons going through their paces, 'swooping' for tempting prey, with a Saluki couple made up of Reesha (which means feather) and Raddad (which means defender) racing for bait.
Falcons are a cultural symbol of the UAE, thanks in part to their skill and characterful personalities. In fact, falcons and falconry have been connected to Emirati culture for centuries. This bird of prey played a vital role in Bedouins' (nomadic Arab people) lives, with falcons hunting Bustard and Curlew birds and other animals for food. Salukis, meanwhile, are known for their incredible speeds of up to 75km/h, intelligence and stamina, traits that make them perfect hunting companions. One of the world's oldest dog breeds, Salukis historically travelled throughout the Middle East and along the Silk Route with caravans and nomadic tribes.