Step inside the iconic Louvre Abu Dhabi, the first universal museum in the Arab World, translating and fostering the spirit of openness between cultures. As one of the premier cultural institutions in the heart of the Saadiyat Cultural District on Saadiyat Island, this art lovers' dream displays works of historical, cultural and sociological significance from ancient times to the contemporary era.
From the moment this iconic museum opened its doors in Abu Dhabi, the Abu Dhabi art scene elevated to a global scale, implanting a strong sense of pride in locals and residents alike.
There are 9,200 square metres of galleries to explore, including a Permanent Gallery and a Temporary Gallery enriched by loans from notable French museums, including Musee du Louvre, Musee d'Orsay, and Centre Pompidou.
Showcasing the juxtaposition of different civilisations in the same space, the Louvre museum illustrates similarities and exchanges from the shared human experience, going beyond geography, nationality, and history.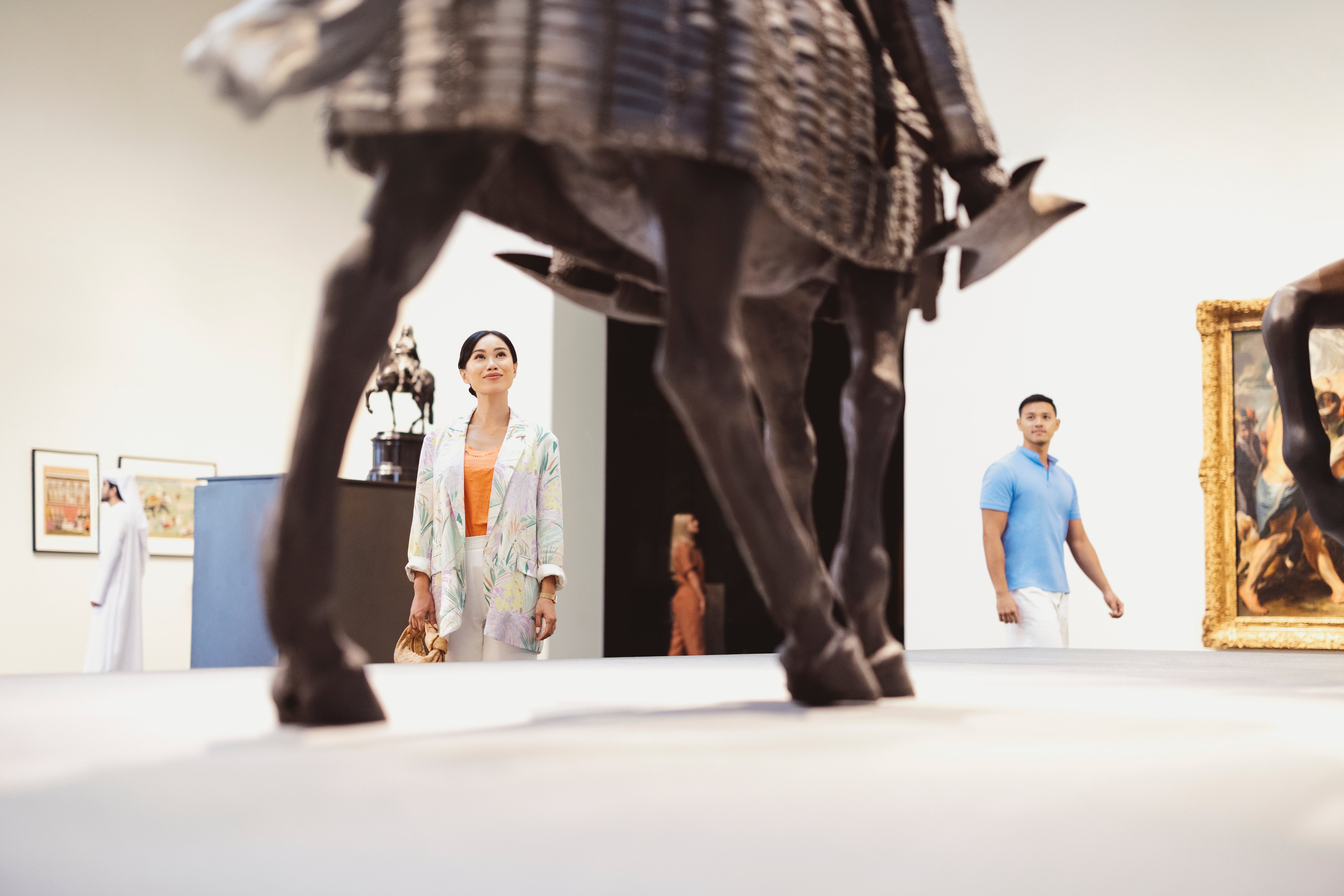 As well as housing many art pieces to admire, the building itself is an architectural masterpiece designed by Pritzker-prize-winning architect Jean Nouvel.
Water and the subtle play of reflected light, the incredible structure was inspired by the region's rich architectural traditions and the museum's unique location, where the Arabian sky meets the sands of Saadiyat Island and the waters of the Arabian Gulf. Considered one of the modern urban wonders of the world, the Louvre Abu Dhabi is not only the Arab world's first universal museum but also a powerful symbol of the United Arab Emirates' ambition and achievement.
To witness the grandeur of the museum in a unique way, it's highly recommended you kayak around the Louvre Abu Dhabi with tours that operate day and night.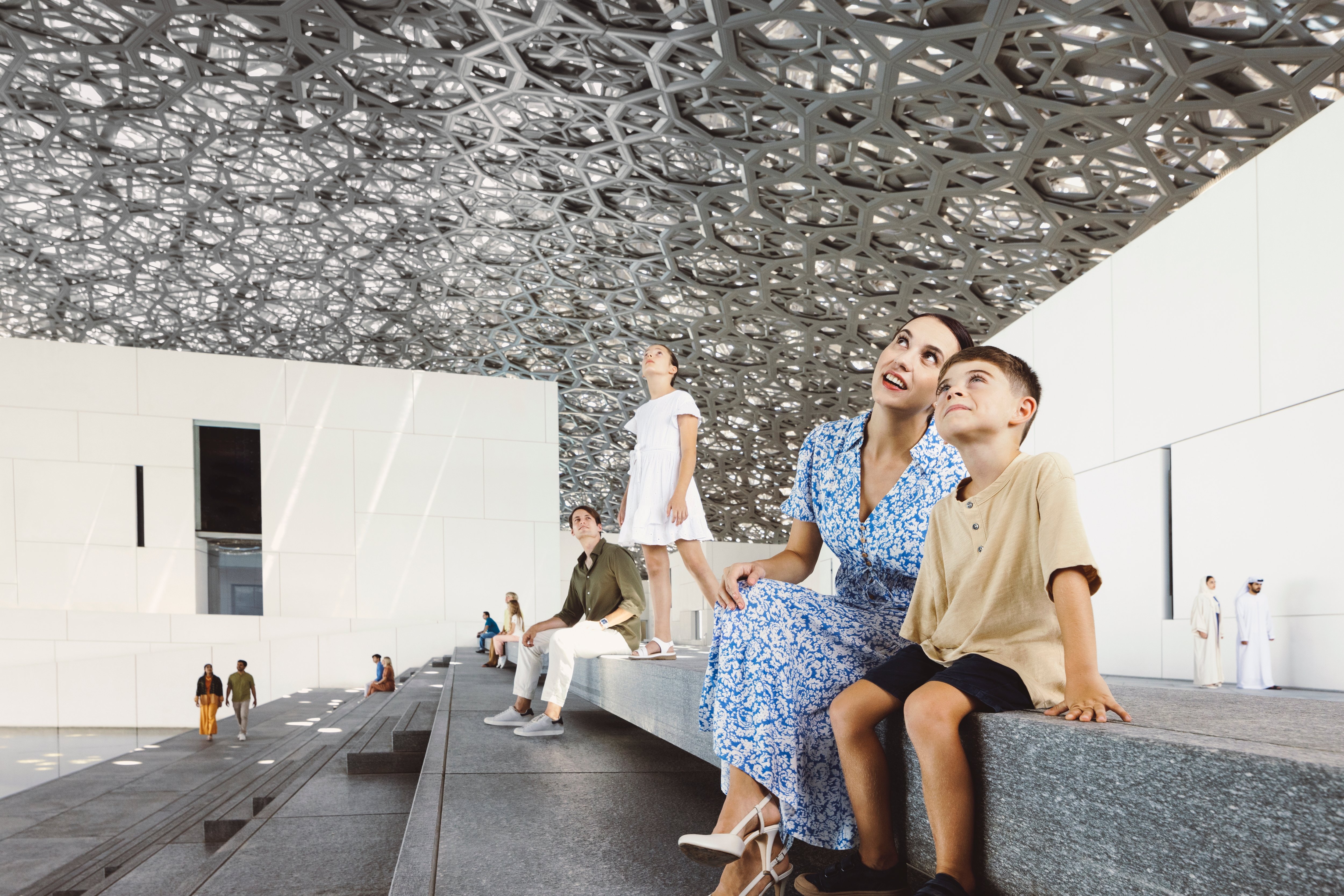 The centrepiece of Nouvel's vision is a vast silvery dome that appears to float above the museum. Despite its apparent weightlessness, the dome weighs around 7,500 tons. That's around the same weight as the Eiffel Tower in Paris.
Inspired by the cupola, a distinctive feature in Arabic architecture, Nouvel's dome is a complex, geometric structure composed of 7,850 stars. These stars appear in various sizes and angles in eight different layers. As the sun passes, the geometric pattern adorns the museum with beautiful shadows projecting a spotted pattern on the ground known as the 'rain of light'.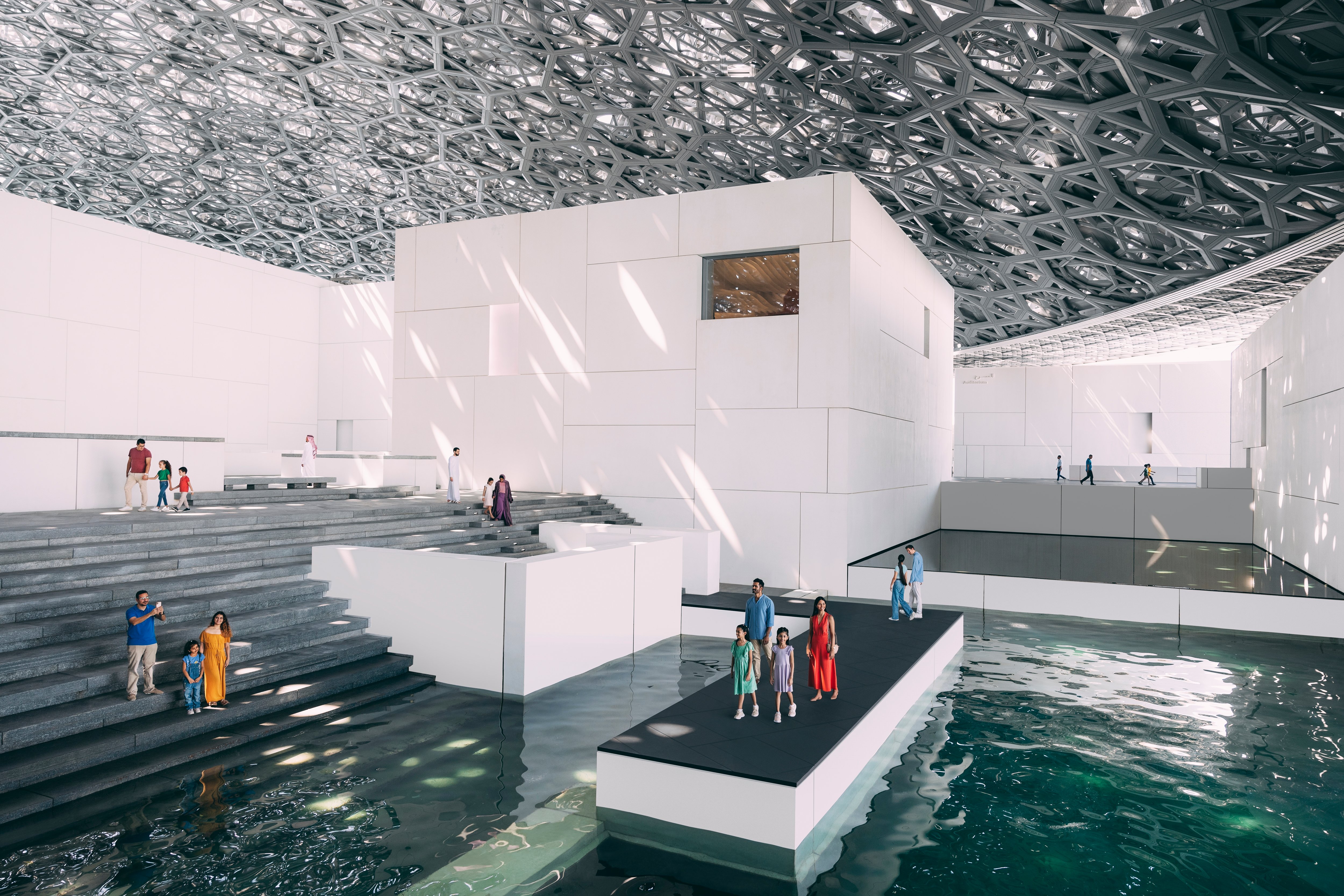 Frequently asked questions about the Louvre Abu Dhabi
How much is the Louvre in Abu Dhabi?
Tickets to Louvre Abu Dhabi range from 30 AED to 60 AED. Visitors under 18 and senior citizens over 60 are welcomed free of charge. Children under 13 must be accompanied by an adult.
How big is Louvre Museum Abu Dhabi?
The Louvre has 9,200 square metres of gallery space.
The 'floating' dome weighs around 7,500 tons.