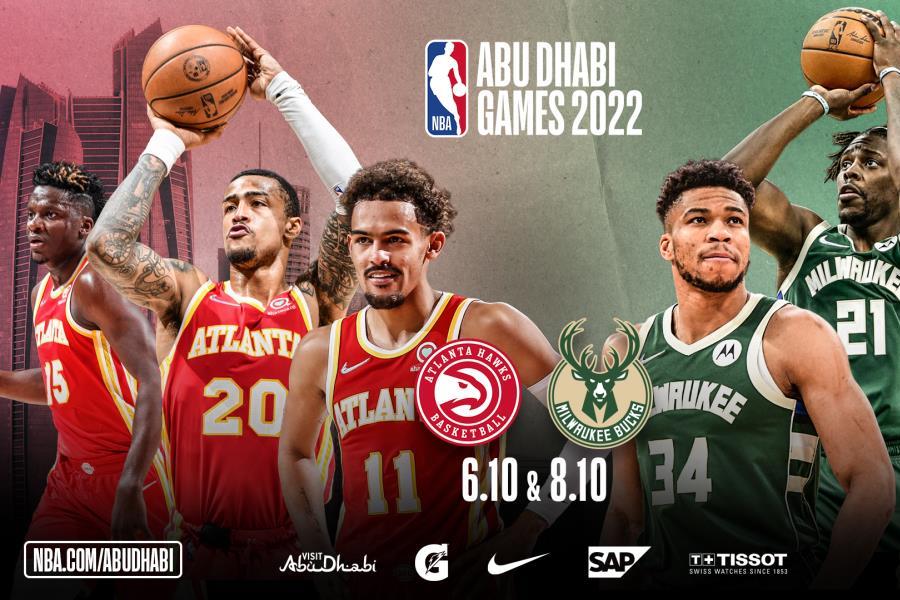 See All
Thu, Oct 06, 2022 08:00 PM - Sat, Oct 08, 2022 11:00 PM
NBA Abu Dhabi Games 2022 to Feature Hawks and Bucks Playing Two Preseason Games at Etihad Arena Yas Island! The NBA Abu Dhabi Games 2022 will mark the league's first games in the United Arab Emirates (UAE) and the Arabian Gulf.
The Hawks currently feature two-time NBA All-Star Trae Young, 2020-21 NBA rebounding leader Clint Capela and 2018 NBA All-Rookie Second Team members John Collins and Bogdan Bogdanović. The Bucks currently feature two-time Kia NBA MVP Giannis Antetokounmpo, three-time NBA All-Star Khris Middleton and three-time NBA All-Defensive Team member Jrue Holiday.
The NBA Abu Dhabi Games 2022 are part of a groundbreaking multiyear partnership between the NBA and DCT Abu Dhabi. The partnership also includes a variety of interactive fan events featuring appearances by current and former NBA players and a series of NBA FIT clinics promoting health and wellness.
Schedule
Etihad Arena - Yas Island
Oct 06 - Oct 06, 2022
08:00 PM - 11:00 PM
Etihad Arena - Yas Island
Oct 08 - Oct 08, 2022
08:00 PM - 11:00 PM
Stay up to date with events in Abu Dhabi