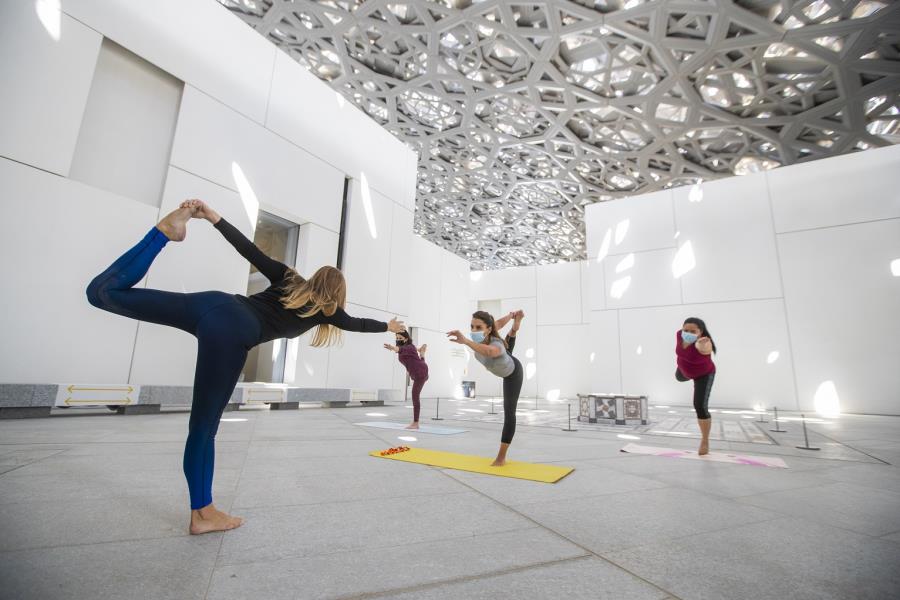 See All
Sun, Jan 10, 2021 10:15 AM - Fri, Dec 31, 2021 06:15 PM
As a mindful museum, Louvre Abu Dhabi invites you to experience the restorative serenity of one of the world's most inspiring locations. Twice daily yoga sessions under the dome will help you calm your mind and find inner peace.
A space that harnesses the energy of the sun, sea and wind, Jean Nouvel's dome encompasses the celestial with the terrestrial to create its very own microclimate and a truly unique setting in which to explore the healing power of nature and art. New safety measures have been put in place for you to enjoy a safe and comfortable experience.

- Participants should bring their own yoga mats, water bottles and towels 
- Payments should be made online prior to the session
- Social distancing measures (minimum of 2 meters) are in place
- Masks need to be worn within the museum premises, but can be removed during the session 
- Each session will have a maximum of 20 participants 

Participants should arrive 15 minutes before the session starting time and head to the meeting point.
*Timings are subject to change. Please make sure to check the Louvre website before booking your session. 
** Classes will be run by Bodytree Studio.
Schedule
Louvre Abu Dhabi
Jan 10 - Dec 31, 2021
10:15 AM - 11:30 AM
Louvre Abu Dhabi
Jan 10 - Dec 31, 2021
05:00 PM - 06:15 PM
Abu Dhabi Calendar
Stay up to date with events in Abu Dhabi