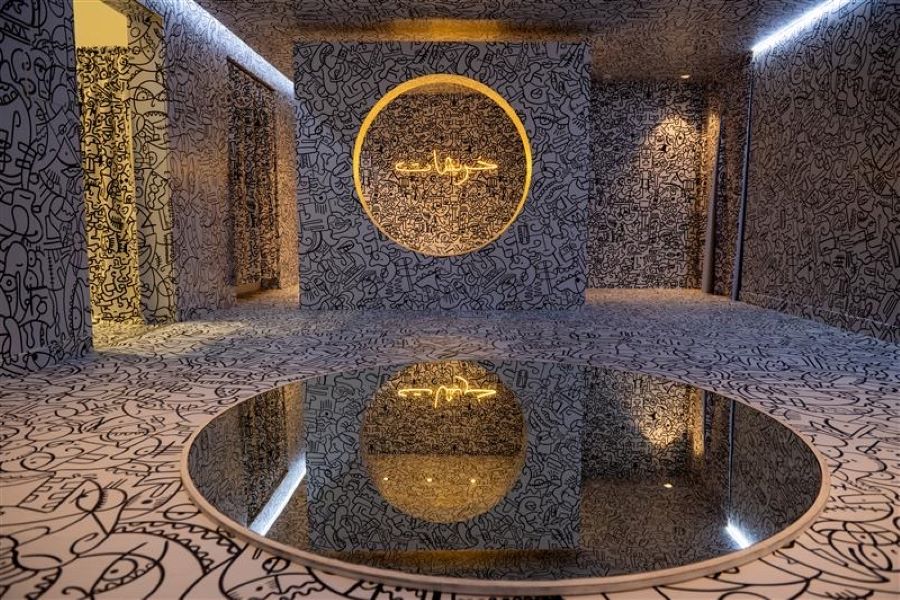 See All
Doodles Installation at Manarat Al Saadiyat
Manarat Al Saadiyat
Tue, Mar 01, 2022 10:00 AM - Tue, May 31, 2022 08:00 PM
Join in for yet another transformation of the Photography Studio into a concept never before seen at Manarat Al Saadiyat, with Emirati artist Hend Almurid.
The concept behind this highly detailed work of art is clearly in its intricate doodles. If you look closely at the designs, you will realise the drawings are composed of abstract lines without lifting the pen from the paper. Now imagine an entire space covered in large doodles, with each wall highlighting a different pattern. Almurid found her passion in drawing and creating abstract faces in her childhood.
She found her in inspiration in cartoons she used to watch when she was young. Many of artist's pieces have a special meaning and connection to the her; they represent her feelings at the moment of the creation. The images she fathoms are infinite as they have no beginning or end, much like her childlike imagination.
The artist has been doodling since before she went to college, and with time she noticed her doodle designs kept transforming. In fact, the designs have become more abstract and complex in the most gifted sense. Hend has also introduced colour in some of her designs, however the majority of her doodles are in black and white.
Through this collaboration, the idea is to blend the designs so as to create a sense of an optical illusion where the lines are seemingly disconnected, yet with a closer look, you will find that all the lines are intertwined. On the other hand, the further away you stand, perhaps some 'faces' will start to appear more clearly.
The Photography Studio at Manarat Al Saadiyat hopes to present this experience to visitors, not only to learn about the work if the Emirati artist, but to create a space for interaction and enjoyment of the Photography experience through an open-ended artwork.
Schedule
Manarat Al Saadiyat
Mar 01 - May 31, 2022
10:00 AM - 08:00 PM
Stay up to date with events in Abu Dhabi