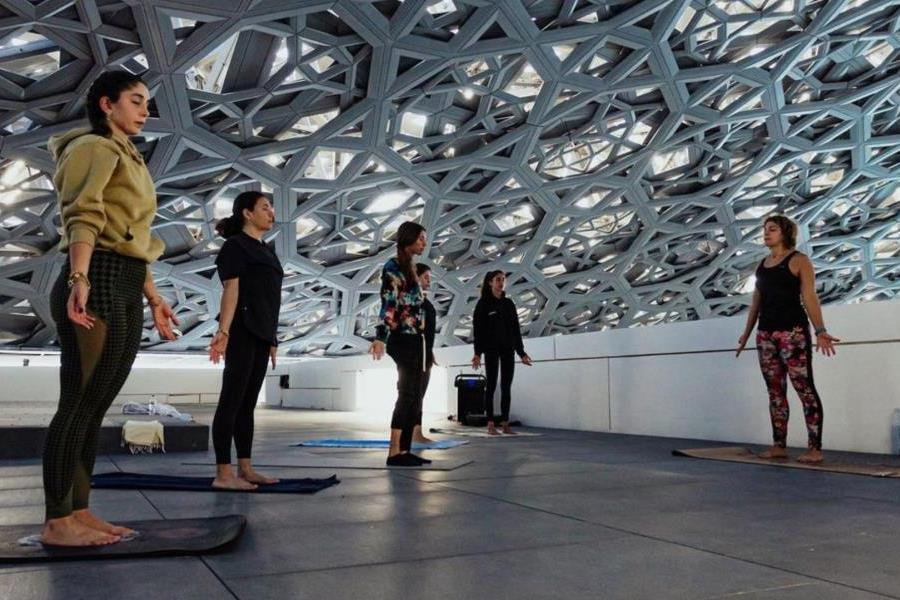 See All
Immersive Flow Sessions at The Louvre Abu Dhabi
Louvre Abu Dhabi
Sun, Jan 01, 2023 11:00 AM - Sun, May 28, 2023 06:00 PM
Get access to galleries and exhibitions alongside your session at the Louvre.
As a mindful museum, we invite you to experience the restorative serenity of one of the world's most inspiring locations. Immersive Flow Sessions under the dome at Louvre Abu Dhabi will help you calm your mind and find inner peace.
A space that harnesses the energy of the sun, sea and wind, Jean Nouvel's dome encompasses the celestial with the terrestrial to create its very own microclimate and a truly unique setting in which to explore the healing power of nature and art.
For more information and bookings, click here
Schedule
Louvre Abu Dhabi
Jan 01 - May 28, 2023
11:00 AM - 12:00 PM
Notes
Hatha Yoga Saturdays and Sundays only
Louvre Abu Dhabi
Jan 01 - May 28, 2023
11:00 AM - 12:00 PM
Notes
Power Yoga Tuesdays only
Louvre Abu Dhabi
Jan 01 - May 28, 2023
05:00 PM - 06:00 PM
Notes
Pranyama and Meditation Ladies Only on Sundays
Louvre Abu Dhabi
Jan 01 - May 28, 2023
05:00 PM - 06:00 PM
Notes
Sound healing and Restorative Stretching Saturdays ony
Stay up to date with events in Abu Dhabi