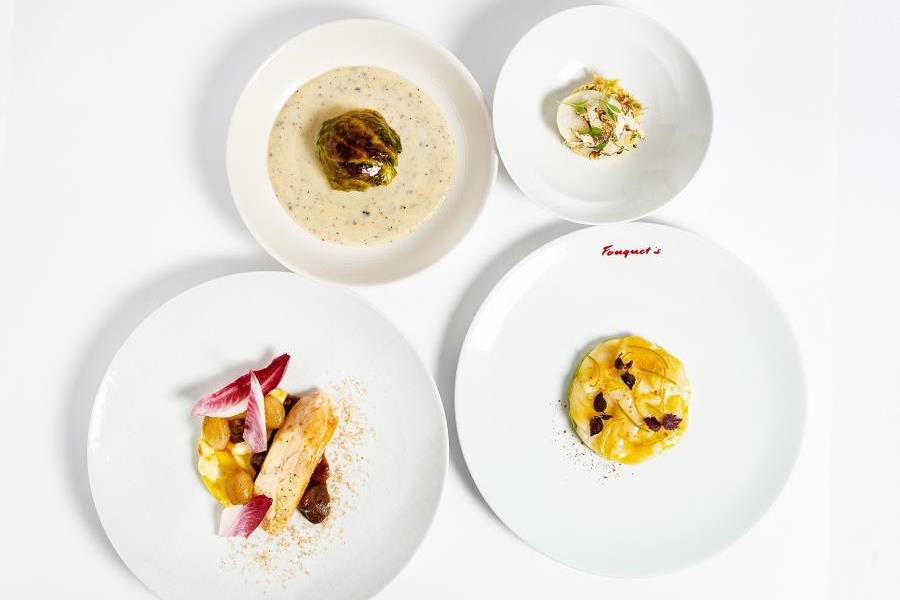 See All
Thu, Dec 24, 2020 12:30 PM - Fri, Dec 25, 2020 07:30 PM
Christmas is the time of year many of us long for and planning it ahead gives us that extra shot of festive cheer. This year, Fouquet's Abu Dhabi is bringing Paris to you! 

For this special occasion Fouquet's has curated a dazzling Christmas Menu that will take you on a mystic journey to the City of Lights.   

The set menu includes traditional dishes curated by Chef Pierre Gagnaire including the seared scallops carpaccio to start with as well as stuffed cabbage "a la Salardaire" and king crab with cauliflower and black radish. To follow, Fouquet's guests can enjoy the flavors of the roasted Chapon breast from Bresse with Chestnut and pearl onions, the famous gratin dauphinoise and pineau des charentes jus. 
For the 2020 festive season, Fouquet's Abu Dhabi house pastry Chef Hugo Sipp has also created an elegant yule log; inspired by Foret Noire-Alsace. Heightened by strong flavors, this Yule Log sits on a layer of Jivara chocolate biscuit and is filled with a creamy vanilla mousse and a whole confit of cherries. 

The set menu is available for 450 AED per person including one glass of bubbly or mocktail, for lunch and dinner.
Schedule
Fouquet's Abu Dhabi
Dec 24 - Dec 25, 2020
12:30 PM - 07:30 PM
Abu Dhabi Calendar
Stay up to date with events in Abu Dhabi