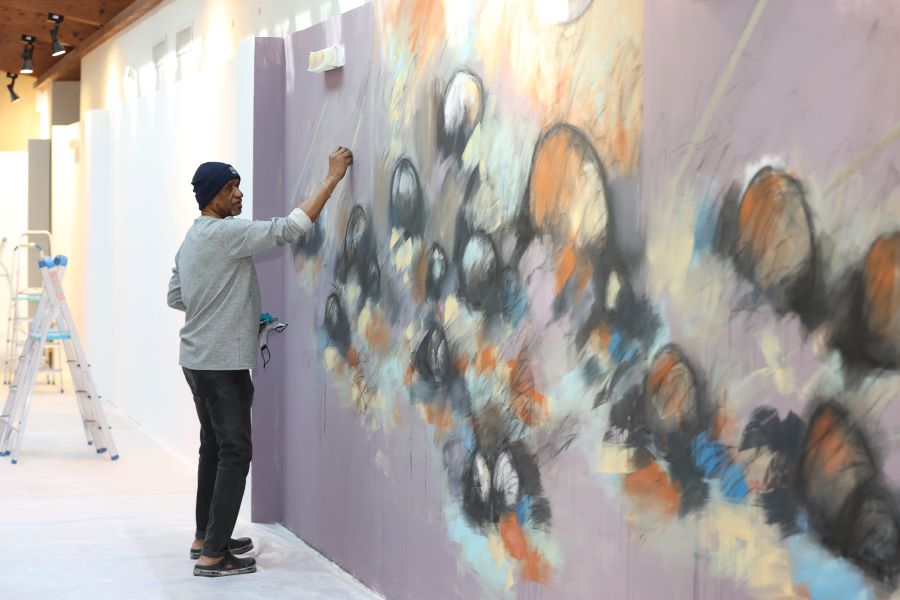 See All
Mon, Jan 31, 2022 08:00 AM - Fri, Jan 06, 2023 08:00 PM
Al Qattara Arts Center invites you to visit and enjoy the work of some talented artists.
The participating artists are:

Fahad Al Jaber
Fahad Al Jaber is an Emirati artist and graphic designer. A former member of the UAE Fine Arts Association, he worked as a print designer and online publisher at the Cultural Foundation (1986 – 2000), and as Art Director of Al Ittihad newspaper (2000 – 2011).

Khulood Al Jabri
Khulood Al Jabri is an Emirati artist with a BA in Media from the Faculty of Arts at the UAE University. She worked at Abu Dhabi's Cultural Foundation from 1986 to 2006, as a Fine Arts teacher at Al Marsam Al Hor, as well as in the Exhibitions Department and as a Publications Designer. She has worked at the Ministry of Culture and Youth from 2012 to the present.
Abdulrahim Salem
Abdulrahim Salim completed his BA in Sculpture from the College of Fine Arts, Cairo, in 1981. Upon his return to Dubai, he turned his focus to painting. His exhibitions feature his sculptures alongside the figurative and abstract paintings for which he is now known. Salim was a member of the Emirates Fine Arts Society in Sharjah, exhibiting regularly from 1981 to 2001. His work has been featured in regional solo exhibitions as well as international biennials, highlights of which include the 56th Venice Biennial.
Mona Al Khaja
Emirati artist Mona Al Khaja received her BA from the College of Fine Arts at the University of Helwan (Cairo, 1981). Upon her return to the UAE, she worked in art education, and was eventually assigned the role of developing the art curriculum for government schools. A member of the Emirates Fine Arts Society, she received the Al Owais Award in 2004 and participated in several local and international exhibitions, including: Tahiya wa Mahaba, Cultural and Scientific Association (Dubai, 2016).
Ibrahim Al Awadhi
Ibrahim Al Awadhi is an Emirati artist who has been active in UAE artistic circles for the past 28 years, and was one of the founders of the Emirates Fine Arts Society.  He has participated in a wide variety of local and international fine art exhibitions over the years, in countries including Oman, Jordan, Saudi Arabia, Lebanon, Kuwait and France. Al Awadhi and was awarded a Certificate of Appreciation at the 1999 Sharjah Biennale and has served as an adjudicator for numerous panels and art competitions in the UAE as well as abroad.

Mohamed Al Astad
Mohamed Al Astad is an expert and adviser for the art curriculum at the Ministry of Education in the UAE. He is an art and design graduate from the American University in Washington D.C. (1998) and has been a member of the Emirates Fine Arts Society since 1987, the year of his first exhibition. Aside from teaching art at the Cultural Foundation, he founded the Mohammed Al Astad Centre for Artistic Creativity, from where many UAE artists have emerged.

Jalal Luqman
Jalal Luqman studied International Marketing in the United States, at the same time pursuing Graphic Design as a second major. He holds a Master of Arts in Cultural and Creative Industries from the Centre of Excellence for Applied Research and Training (CERT). Luqman worked with the Cultural Foundation in 1995 as a freelance graphic designer, eventually being included in one of their major shows. His debut exhibition took place at the Cultural Foundation shortly after, in 1996, and is regarded as the Gulf's first digital art exhibition.
Khalil Abdulwahid
Khalil Abdulwahid is Director of the Fine Arts Department at the Dubai Culture & Arts Authority and a member of the Advisory Board of the Department of Visual Communication at the American University of Dubai. He graduated from Pennsylvania State University in 2001, and also holds an Associate Degree in Computer Aided Drafting & Design from the Pennsylvania College of Technology (2000).

Najat Makki
Najat Makki obtained her BA and MFA in Relief Sculpture and Metal from the College of Fine Arts in Cairo, where she also received her PhD in Philosophy of Art in 2001. She was the first Emirati woman to be awarded a government scholarship to study art abroad (1977). Her works have been exhibited internationally and extensively. Highlights include the Beijing International Biennial (China, 2016); ADMAF's Portrait of a Nation (Abu Dhabi, 2016; Berlin, 2017); National Pavilion UAE, Venice Biennial (Italy, 2015).

Ali Hammad
Ali Hammad was born in 1985 in Quetta, Pakistan. He was brought up in a happy household filled with an inspiring knowledge of art and literature. From childhood, art was Hammad's greatest passion. With the passage of time his appetite for drawing and painting grew, and he ultimately won a scholarship to the renowned National College of Arts, Lahore. Hammad developed a penchant for the Old Masters, and at college he explored different subjects such as sculpture, drawing, and art history design.
Kais Al Sha'er
 Artist Kais Al Sha'er was born in the Syrian city of Suwayda in 1981. He is an interior architect currently living and working in the UAE. He studied art in Syria, and developed his works while in UAE. Al Sha'er works mostly with mixed mediums and tools, where he focusses on merging his artwork with the surrounding elements.
Malak Al Ajou
 Malak Al Ajou, born 1992 in Jordan, is an emerging artist who currently lives in Al Ain, UAE. She works as an architect with the Department of Culture and Tourism - Abu Dhabi, focussing on Heritage Documentation. For her, art is an outlet of expression, derived from surroundings and personal experiences, revolving about being an Arab woman. Her works communicate feelings rather than subjects.
Al Ajou previously took part in the "Imagu Mundi" exhibition in Italy, and also created a mural as part of the Qattara Arts and Crafts Festival celebrating UAE heritage. Representative of the woman she is, the materials Al Ajou chooses to work with are limited to traditional pencils and paints, as she wants to derive her artworks from limited media to achieve a range of expressions.
For more information, call +971 3 711 8225 or email at 
[email protected]
Schedule
Al Qattara Arts Centre
Jan 31, 2022 - Jan 06, 2023
08:00 AM - 08:00 PM
Notes
From Saturday to Thursday
Stay up to date with events in Abu Dhabi