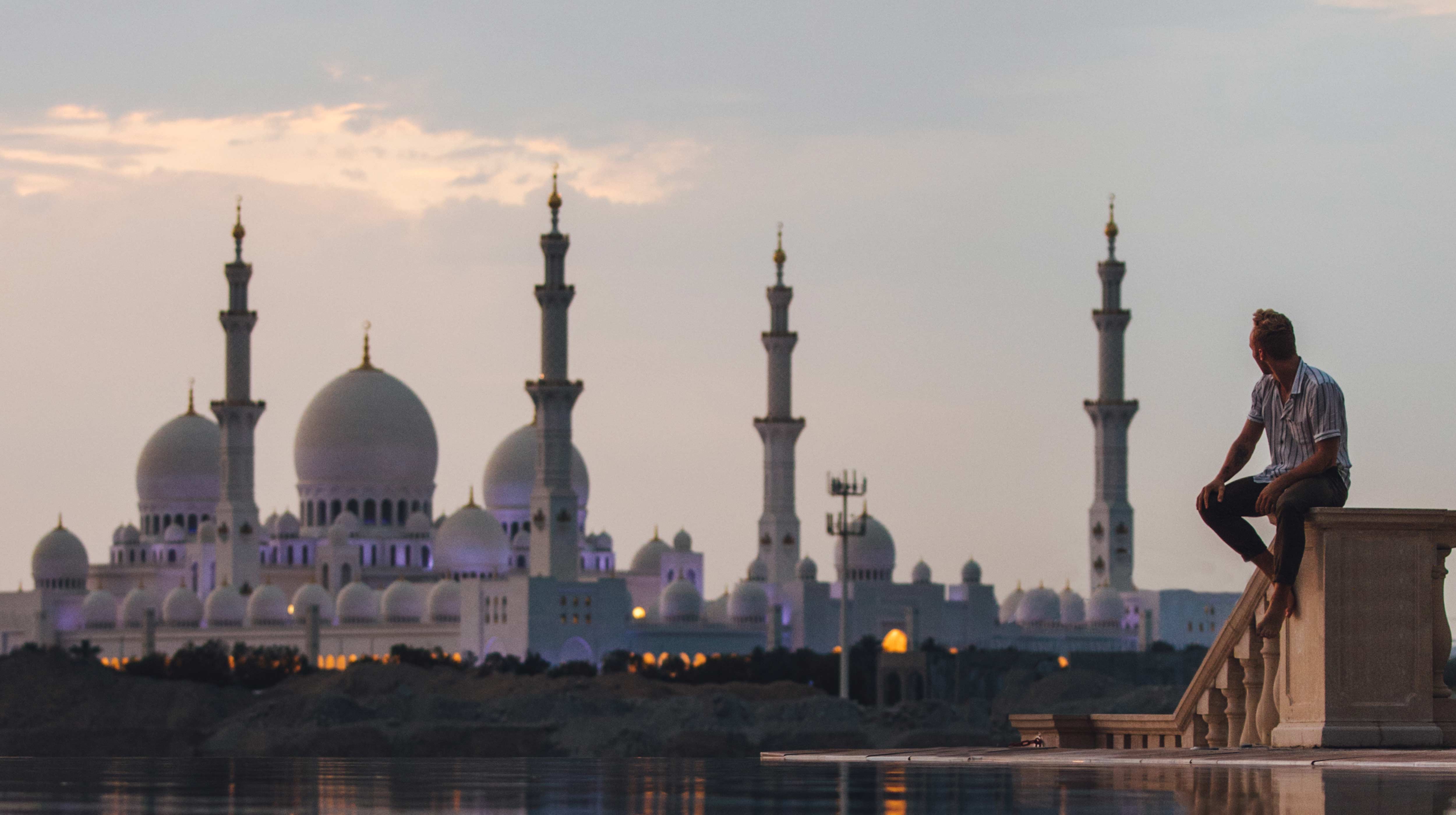 Enjoy a fascinating day out by exploring three of Abu Dhabi's iconic sights in one eight-hour tour.
Start at Abu Dhabi International Airport before heading to the Louvre Abu Dhabi, a universal museum covering art and civilisation, which contains myriad priceless items that tell the story of humanity throughout the ages. Don't forget your camera; you'll want to capture the structure's enormous dome, composed of 7,850 stars that filter light through their perforations, creating a dazzling display known as the 'rain of light'.
Then, enjoy a visit to the Sheikh Zayed Grand Mosque, a majestic, welcoming place of worship and one of Abu Dhabi's most iconic landmarks. This stunning sight is one of the biggest places of worship in the world and is a fantastic place to take photographs.
Wahat Al Karama is next on the list. This thought-provoking destination is a beautiful, permanent tribute to the UAE's brave soldiers and other Emiratis − recognised as martyrs in the country − who made the ultimate sacrifice while serving their nation.
Finally, head back to Abu Dhabi International Airport and onwards to your next destination.
What to expect
Discover ancient stories of global cultures and priceless art at the breathtaking Louvre Abu Dhabi, capture stunning photos and be awed by the majestic Sheikh Zayed Grand Mosque, and take time to reflect at the thought-provoking Wahat Al Karama tribute.
Stop 1
Abu Dhabi International Airport
Abu Dhabi
Recommended Time: 1 hours
With more than 50 airlines flying to and from some 102 destinations in over 56 countries, Abu Dhabi International Airport has been recognised by the World Airport Awards, with the 'Best Airport in the Middle East' accolade going to this airport more than once.
The airport's Terminal 1, with design and architecture reflecting traditional Emirati elements set in a high-end, ultramodern ambience, delivers a five-star travel experience.
The home of Etihad Airways – the national airline of the United Arab Emirates – Terminal 3 welcomes travellers to plush Etihad lounges and an award-winning concierge-style check-in. Impressive retail is managed by DFS, the world's largest luxury retailer, and is complemented by upmarket restaurants and cafés. 
The soon-to-come Midfield Terminal Complex (MTC), a centrepiece of Abu Dhabi Airports Company's (ADAC) multibillion-dollar investment programme, will provide a full terminal building, passenger and cargo facilities, duty-free shops and restaurants for between 27-40 million people a year in the future.
Are you flying into Abu Dhabi? Click here for full flight information.
Abu Dhabi International Airport is also well connected to the rest of the emirate by numerous bus services. For more information on bus services, fares and schedules, or to download bus routes, click here. 
Read More